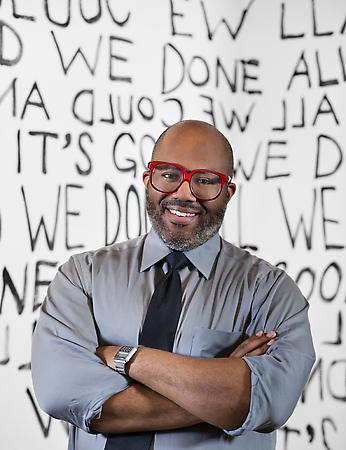 Trenton Doyle Hancock (b. 1974, Oklahoma City, USA) was brought up in Paris, Texas and studied at East Texas State University (BFA) and Tyler School of Art at Temple Philadelphia (MFA). Hancock lives and works in Houston, Texas.
Hancock's works were featured in the 2000 and 2002 Whitney Biennial exhibitions, becoming one of the youngest artists in history to participate in this prestigious survey. His work has been the subject of solo exhibitions at The University of South Florida Contemporary Art Museum, Tampa (2010); The Savannah College of Art and Design, Savannah and Atlanta (2010); The Weatherspoon Museum, Greensboro (2010); Institute for Contemporary Art at the University of Pennsylvania, Philadelphia (2008); Olympic Sculpture Park at the Seattle Art Museum, Seattle (2010); The Fruitmarket Gallery, Edinburgh (2007); and Museum Boijmans Van Beuningen, Rotterdam, The Netherlands (2007); The Contemporary Arts Museum, Houston (2001); The Modern Art Museum of Fort Worth (2001); The Museum of Contemporary Art, North Miami (2003). Skin And Bones: 20 Years of Drawing, a retrospective of Hancock's drawings since the mid-90s, is currently touring the US and has been shown in major institutions such as Contemporary Art Museum Houston, Akron Art Musem Ohio, and is currently on view at the Studio Museum in Harlem, New York City (through 18 June 2015). Hancock's public works include site-specific installation at the Dallas Cowboys Stadium, Seattle Art Museum's Olympic sculpture Park and Houston's Hermann Park. 2008 saw the premier of Cult of Color: Call to Color, an original ballet commissioned by Ballet Austin and based entirely on the narrative and characters developed by Hancock.
Hancock's work is in the permanent collections of several prestigious museums, including the Dallas Museum of Art, Dallas; Museum of Fine Arts, Houston; Modern Art Museum of Forth Worth, Fort Worth; The Museum of Modern Art, New York; Whitney Museum of American Art, New York; The Metropolitan Museum of Art, New York; The Studio Museum in Harlem, New York; Brooklyn Museum, Brooklyn; San Francisco Museum of Modern Art, San Francisco; Akron Art Museum, Akron; Museum Boijmans Van Beuningen, Rotterdam, The Netherlands; and il Museo di arte moderna e contemporanea, Trento, Italy.